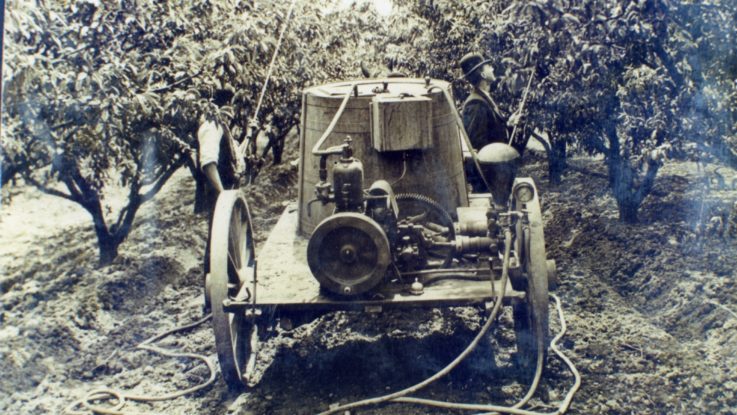 From the early days of settlement in this district, fruit growing was successfully carried on. All orchards had their own dams for irrigation, , pumps and gravity being used in conjunction for this necessary chore. Horse drawn carts took fruit to market for many years before motor transport took over.
Cup Day meant Sunday School picnics to Blackburn Lake in past years, but other picnickers also would arrive and help themselves liberally to the ripening cherries in the local orchards. Owners of these properties were always glad when this day was past.
Victoria can claim the distinction of being the first State in the Commonwealth to have cool storage of fruit, and the first to export pears overseas. The Somerset in 19110 took the first shipment of William pears. Victoria is still the main exporting State for pears, but ranks second to Tasmania in the amount of apples sent to other parts of the world.
The first cool-store in this district was a Government one at Doncaster; others followed later. The Blackburn cool-store was opened in 1918, the first engineer being the former operator of the Box Hill – Doncaster tram.
In 1930, owing to difficulties with space and particularly with overseas markets, local growers decided to form a company, with an overseas representative to protect their interests. Pears were exported first, later apples, plums for a time, and for a short period, cherries to New Zealand.
This company, the Blue Moon Fruit Co-operative Ltd. has prospered and now has subsidiary companies in N.E. Victoria, Tasmania and Western Australia. Fruits handled are pears, apples and citrus fruits.
The small group who began this venture could not have envisaged the world-wide contacts which developed in later years for their fine company.
Information from Mr F. Moore, Canterbury Road, Blackburn – July 1968 Newsletter