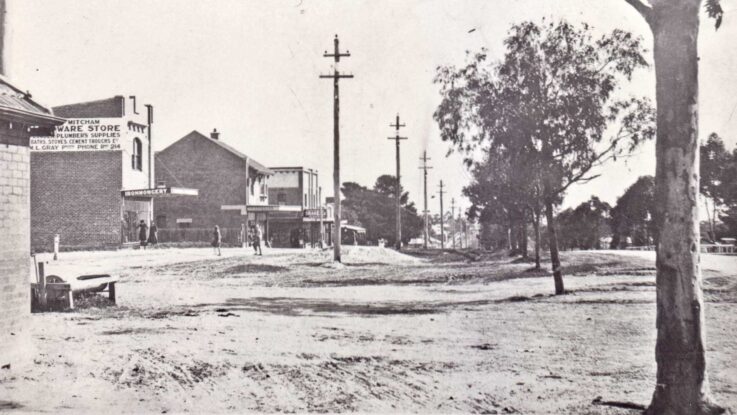 Mitcham was named after Mitcham Grove, a farm property owned by William Slater, who grew roses and herbs for perfumes and remedies. From its settlement in the 1860s, the Mitcham area was generally used for orchards, brickmaking and pottery.
At Mitcham, the community first centred on McGlone's tiny Harvest Home Hotel and St John's Catholic Church with its school and cemetery. A post office opened at the railway station in 1884. By 1889 McGlone's hotel had closed, but two others, also run by Irish families O'Callaghan's Hill Hotel and McDonnell Reserve Hotel took its place.
In 1892 Mitcham's population was about the same as Blackburn's (50), but the district was of a different character. It had a strong Irish Catholic community from its early years, to which was added an influx of workers for the brick and tile industry that really took hold in the mid 1880s. In 1889 a police station was established – the only one in the shire outside Box Hill – and by 1892 Mitcham had a bank, probably an agency from the Box Hill branch of the ES&A. By 1891 the Victorian Statistical Register used 'Brickmaking' as the identifying characteristic of Mitcham – though, surrounded by orchards, the township also had a cool store near the station by 1915.
Estate agents loved to highlight Mitcham's position as the highest station on the rail line; however, mountain views and "salubrity unsurpassed in Victoria" did not attract many suburban settlers prior to the Second World War.
Since the 1950s post-war expansion, Mitcham has become a suburban area.