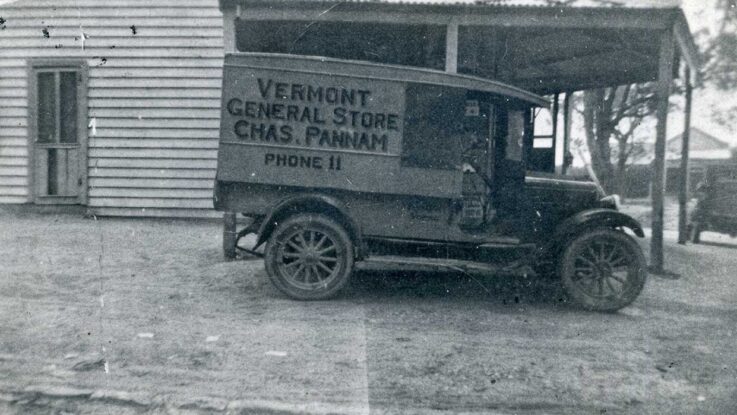 Prior to the first European settlers, the landscape was thickly timbered bushland, occupied by the Wurundjeri, Indigenous Australians of the Kulin nation, who spoke variations of the Woiwurrung language group. They were hunters and gatherers, camping near the creeks and gullies of the area now known as Bellbird Dell.
The first settlers, who were woodcutters and charcoal burners, came in the 1850s before land sales. Selectors followed and they marked out, leased and improved allotments, which would enable them to gain freehold titles from the Crown. Temporary wattle and daub huts were erected and later substantial timber cottages.
A high point of the shire was LL Vale, which became Vermont in 1885 when the official post office was established in Thomas Bowen's general store. Situated some distance from the railway, Vermont remained a self-contained orchard district, centred on its church and school. It also had a Mechanics Institute in the early twentieth century. A horse-drawn bus connected Vermont with the Mitcham railway station. In 1923 the Mitcham & Vermont Motor Bus Service commenced under the auspices of the newly formed Vermont Progress Association. It was said to be the first community bus service in Victoria.
Apart from some general farming, orchards dominated the landscape until the 1950s and 60s, when the demand for new housing areas led to the subdivision of orchards. Vermont South Post Office opened on 22 October 1974 as the suburb developed.